A little message to Mojang. You are guilty of copyright fraud. There is no question about that.
Want me to prove it? You know all of those YouTube videos you copyrigt struck? Your own EULA says: Within reason you're free to do whatever you want with screenshots and videos of the Game. By "within reason" we mean that you can't make any commercial use of them or do things that are unfair or adversely affect our rights unless we've specifically said it's okay in this EULA, allowed it through the Brand and Asset Usage Guidelines [BUAG], or provided for it in a specific agreement with you. Now, let's take a look at the BUAG: You may create, use and distribute videos of you playing or using our game for any lawful reason provided that you don't make any money from them [with an exception for ad revenue]. Remember, this clause in the BUAG is validated by previous listed clause in the EULA.
Thus, all of those users who were posting videos to YouTube of the developer versions - they actually had permission from Mojang to post videos of the game. So Mojang turning around and copyright striking them amounts to copyright fruad. Now, to address an important point: IP_Justice#7453 alleges that the EULA and BUAG do not apply to developer versions, by virtue of those being leaked versions. Guess what. You're still guilty of copyright fraud. (Also, that argument would never hold up in front of judge, as it is still "the game", even if it is modified to include developer features and locked under NDA.) Before posting his Bedrock Leaks videos, AMS (AgentMindStorm) asked one of your employees if it was okay to post those videos. They gave the green light, saying that it was okay. Thus, AMS had express permission from you (Mojang) to post those six videos. Copyright striking them and taking them down after giving permission amounts to copyright fraud. There is no way around it. Mojang is guilty of copyright fraud. Just wanted to get this out of way for anyone who still somehow thinks Mojang is within their rights. An announcement from the main server.
Illusioner's profile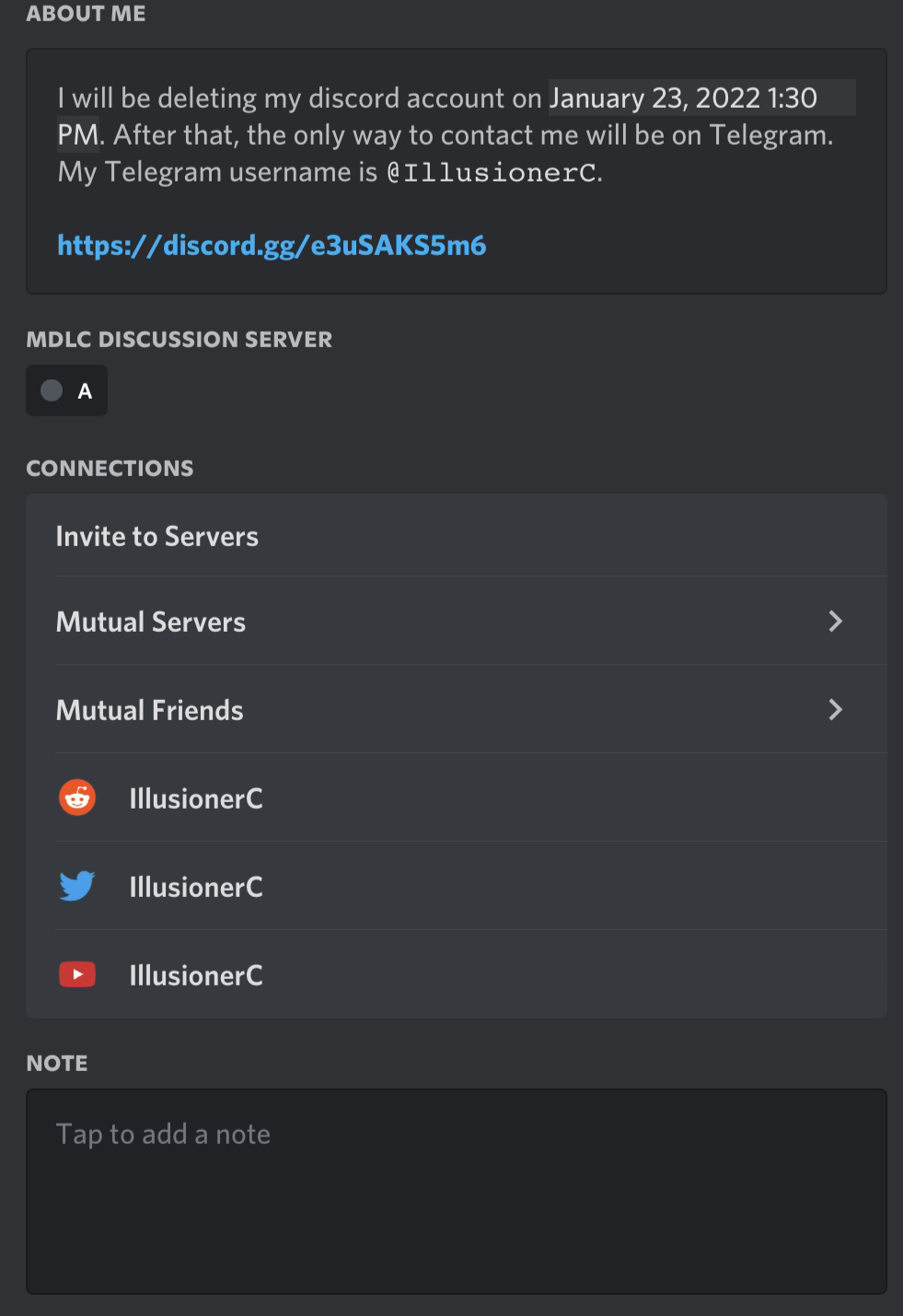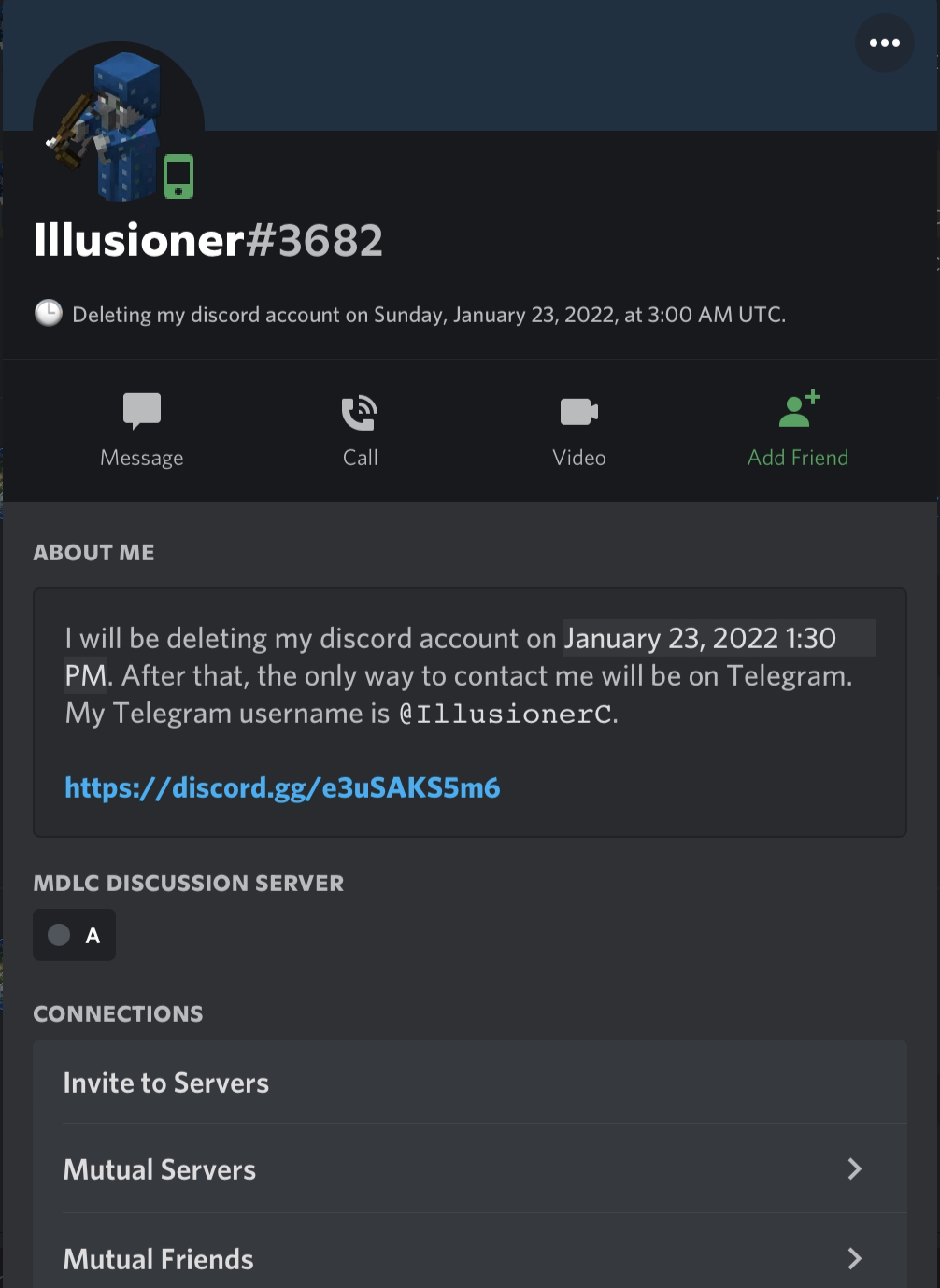 Minecraft Bedrock is hiding a secret.
Minecraft Bedrock is Hiding a Secret.
For years[a], Minecraft Bedrock has been hiding a secret. One that reveals a story of lies, greed, secrecy, and cover-ups. One that the developers couldn't hide forever.
This will be divided into 3 different sections: background info, the developer features themselves, and why Mojang is hiding them, each of which will be split into multiple sub-sections.
Note: I created a video about this on my youtube channel, which is linked here. I copied and pasted that youtube video's transcript here, as the "video" is essentially a PowerPoint presentation consisting of a black screen with text on it, and most people would rather read an 11-page essay than sit through a long PowerPoint presentation. (The transcript is slightly modified to make it suitable to post here).
Also: if any link in this post, including links to my youtube channel, violate any of this subreddit's rules or are otherwise inappropriate, then notify me and I will promptly remove it. I will also be happy to retract any claims made here if necessary.
If you are making a video, and you're using this post or my video as a source of information for that video, please give credit by linking my youtube channel and the video and/or post. Background Info
First Appearance of Developer Commands
On April 3, 2018, Minecraft Bedrock 1.2.13 was released[1]. At first, it seemed like just a normal bug fix update, and many didn't even bother updating. But then, people started noticing something strange.
Some of the commands were highlighted in light blue, and they were like nothing ever seen in Minecraft Bedrock before. There were commands such as /aigoals, which displayed the AI goals of mobs (something that was previously thought impossible in Bedrock Edition[verification needed]), and /tptosuitabletree, which printed the coordinates of the top of the nearest tree.
The very same day the update was released, videos were uploaded to Youtube showcasing the new commands[16][17], and many were excited to try out the commands. However, on April 4, 2018, Matthew Gartzke, the Minecraft community manager[8], stated on Twitter that the developer commands would be removed with a server-side update for Android, Windows 10, and console users, and would be removed for iOS users with an update[6]. Despite criticism from the community, Minecraft Bedrock 1.2.14 was released the very same day[2]. The only thing mentioned in its change log was the removal of developer commands that were accidentally left in the release of 1.2.13[7].
Mojang never gave any specific reason for removing the developer commands, leaving many confused. For quite a while, the developers had been saying that it was simply too difficult to implement debug tools, like what existed in Java Edition, into Bedrock Edition[verification needed][b]. However, the fact that the developer commands were even possible to implement meant that despite what the developers were saying, Minecraft Java debug tools could be implemented into Minecraft Bedrock. I'll get back to this later.
After the developer commands were removed, the community essentially stopped talking about them. No one even bothered to look into why they were removed.
The Bedrock Leaks
On February 21, 2021, almost 3 years after Bedrock 1.2.13 was released, AgentMindStorm posted a video titled "In-Game Editors - Minecraft Bedrock Leaks"[10], which showcased leaked footage of a supposedly secret developer version of Minecraft Bedrock. The footage itself showed an implementation of an ImGUI[c] system within a Minecraft Bedrock developer version. But more importantly, it was the start of a series titled "Minecraft Bedrock Leaks"[9], which was a collection of 6 videos containing leaked footage showcasing features in developer versions of Bedrock which were not available to the general public (debug features). I'll get back to these features later.
What AgentMindStorm commented about these debug features is more important. In the descriptions of his Bedrock Leaks videos, he comments about the veil of secrecy surrounding these features, and how the existence of the developer version was meant to be kept a secret. Again, I'll get back to this later.
You might be wondering, "how does this connect to the accidental release of developer commands into 1.2.13?". Well, the hidden developer versions also included the developer commands, the same ones which were in 1.2.13[14], as well as some that had presumably[verification needed] been added since then.
4chan
On August 22, 2021, a developer build of Minecraft Bedrock beta 1.16.0.51 was leaked to 4chan[4][5]. It's unknown who leaked it or how they obtained it. If anyone has any details regarding who leaked it, or how it was obtained, please contact me, my discord username is in the end notes.
My 3 Year Search for the Commands
The day 1.2.13 came out, I was fooling around with a glitch I found, which affected tridents with Channeling[d]. When it became night time, I typed in a command in order to set it to day. But while I was typing the command, I noticed that some commands were highlighted in blue. I decided that I would check them out later, as I was busy testing out the aquatic update features. However, just two days later, my device automatically updated Minecraft to 1.2.14, and the blue commands were gone.
Later, I came across youtube videos by DanRobzProbz and ECKOSOLDIER showcasing "secret commands"[16][17]. They showed how powerful these commands were, and how they differed from what was already in the game. Then, I found out that these commands were removed.
That's what began my 3 year journey to find the missing commands. From time to time, I would search up methods to install older versions of apps on the Apple App Store, attempting to re-install Minecraft Bedrock 1.2.13. Every time, I came up empty handed.
But that all changed on August 27, 2021. While I was re-watching AgentMindStorm's first video[10], I came across a comment by a user by the name of Silica. The comment read, "I can confirm that these builds are given to marketplace contributors.".
I then contacted him, and he stated that while he was not a Minecraft Marketplace Partner, he did have access to a leaked developer build due to it being leaked on 4chan a few days ago (August 22). He then gave me the link to the 4chan thread, concluding my 3 year search for the debug features.
As it turns out, I got extremely lucky. If I had asked for the developer version a few days earlier, it wouldn't have been leaked yet. If I had asked just a few days later, the 4chan thread would have been deleted due to 4chan routinely deleting old posts[18]. What actually are these developer features?
Disclaimer: This is not a tutorial about how to use developer features within the leaked developer version of Bedrock beta 1.16.0.51. I might do a full, in-depth tutorial of that in the future, but this is not it.
Note: The download link for the leaked developer version is in the endnotes.
Below is a list of some of the more significant developer features in the leaked developer version of Bedrock beta 1.16.0.51 (aka dev-beta-Bedrock 1.16.0.51): A working F3 screen, just like in Java Edition. An ImGUI menu, which lets you edit blocks, entities, and particles in-game. Debug commands such as /aigoals and /paths, which allow you to see the AI and pathfinding behavior of any mob. Quality-of-life commands such as /findflatarea, which finds a flat area for the player to build on, and /tptosuitabletree, which returns the coordinates of the top of the nearest tree. /simscale, which slows down or speeds up the simulation speed of the game[e]. This would be useful for TAS's and technical/redstone players. A working max framerate slider
Remember that these features are kept secret by Mojang and are not accessible to everyday players, despite how useful they would be. What are the implications of this?
Disclaimer: Whatever is said in this section is purely speculative.
First off, let's start with the main question: Why is Mojang hiding this? Why would Mojang keep such useful features a secret?
We can look to the Minecraft Marketplace. A user by the of Silica commented on AgentMindStorm's video, "In-Game Editors - Minecraft Bedrock Leaks", saying that "I can confirm that these builds are given to marketplace contributors"[10]. This is also confirmed by multiple other sources[verification needed].
These builds are given to Minecraft Marketplace partners in order to enable them to create things such as maps and texture packs, which are then sold on the Marketplace for Minecoins, which cost real-world money, with an exchange rate of 160-176 Ⓜ: 1 USD, or 160-(8800/49) Ⓜ: 1 EUR.
It makes sense that Marketplace partners are given these tools in order to enable them to create content to sell on the Marketplace, but why aren't these tools available to everyone?
There's no easy answer, and the developer versions have been shrouded in secrecy ever since the accidental leak of developer commands in Bedrock 1.2.13. Mojang never gave any clear reason for their removal, or commented on what they were in the first place, nor have they publicly commented on or even confirmed the existence of the developer versions.
This is extremely strange, as for years, Mojang has been saying that Minecraft Bedrock was inherently limited by the fact that it had to be adapted to suit multiple different platforms, which is why they couldn't implement things like NBT tags and F3, like in Java.
However, the leaked developer version contains a working F3 menu, just like in Java, as well as many other debug features, such as the ability to spawn a Woodland Mansion using a command. This proves that it's totally possible to implement debug features within Minecraft Bedrock, and the developers are lying when they say it's not.
The question is, why would the developers go to such lengths to keep the developer versions a secret? Why can't they just let everyone have access to these features, instead of just Marketplace partners? While we don't have any definitive answers, we can speculate.
Most likely, it's to prevent people from creating their own maps outside of the Marketplace, as maps and texture packs created outside of the Marketplace don't make any profit for Mojang (they get a share of the revenue from maps on the Minecraft Marketplace[verification needed]). Thus, they want to make sure that people who would otherwise create maps outside of the Marketplace system, create inside of it instead, which they do by restricting the ability of non-Marketplace creators to create maps.
This means that Mojang is actively restricting the potential of Minecraft Bedrock in order to ensure their profits on the Minecraft Marketplace. They are restricting the ability of small map creators and technical redstone players, so that they can continue to pump out maps on the Marketplace.
This aligns with a pattern of greed in other areas of Minecraft Bedrock, such as allowing inferior maps[19][20] to enter the Minecraft Marketplace, and approving inferior servers such as Pixel Paradise onto their featured servers list[21][22][23][f]. I Discovered What?: Serverside Checks and Shadowbans
Disclaimer: Everything said in this section is highly speculative. Take all of this with a grain of salt.
After a few days of using the leaked developer version of Bedrock beta 1.16.0.51, my game began inexplicably and randomly crashing, displaying an error message[g]. I assumed that it was just a bug in the beta version, but the crash became increasingly frequent. Eventually, the game started crashing whenever I loaded it up.
I tried re-installing the game over and over, but nothing worked. The same error message kept appearing over and over again[g][h]. Eventually, I tried re-installing it offline. It worked. I was able to play the game normally offline. However, when I went back online, I received the same error message again, and I kept getting that error message again, even after I went offline.
A few days later, the crash had ceased to occur, even when I was online[i].
There are a few possible explanations for the crash: A clientside glitch/soft error/single event effect that was eventually self-corrected by the computer A computer virus A DOS attack Interference from an outside source (a packet sent through the internet, which messes with Minecraft's files)
While the first, second, and third options are perfectly viable options, I'll be focusing on the fourth one. Interference from an outside source. What outside source could possibly interfere with Minecraft? A computer virus which requires connection to the internet or DOS attack? Both of those are covered by the second and third options, as those would be problems with my personal computer or wifi, and not Minecraft Bedrock or Mojang.
Conspiracy Theory Time: Serverside Checks and Shadowbans
Disclaimer: Again, anything listed or stated in this sub-section is just a theory, and claims made here will be in italic font in order to indicate that (unless they are actual, confirmed facts, in which case, they will be in normal text).
Every time you load up Minecraft Bedrock, your game silently sends a packet to a Mojang authentication server. This packet contains your game version, login details, and other general information about your game. The authentication server then checks that packet for any suspicious details. If the check comes back empty or negative, then nothing happens. You can continue to play your game as normal.
However, if the authentication server does find something suspicious, then the check returns positive, and the server sends a packet back to your device, which scrambles your game files, and crashes your game[j].
You might be thinking that this is a good thing, as it can be used to detect and shut down pirated versions of the game. However, it goes way beyond that. Since they can blacklist pirated versions of the game, what's to stop them from blacklisting perfectly legitimate versions? Or for that matter, developer versions?
That's what I'm suspecting caused the crash. Once the developers were aware of the leaking of the developer version of Minecraft Bedrock beta 1.16.0.51 to 4chan, they blacklisted either the developer version of 1.16.0.51, or 1.16.0.51 itself, to prevent people from accessing it. Once they realized that it was possible to circumvent the blacklist, they removed the blacklist to prevent people from experimenting and testing methods to bypass it[i].
The Evidence for Serverside Checks
Once again, claims that are made without evidence will be italicized.
After reading that last sub-section, you might be a little shocked. You might be thinking, "where's the evidence?". Here it is. Also be aware that I'm perfectly open to alternate explanations for each of the pieces of evidence, and I'm perfectly willing to accept that my theory may be false, if plausible alternative explanations or rebuttals exist.
There are multiple pieces of evidence that we need to consider here. The repeated crashes are only one piece of the puzzle, and remember, they could also be explained in multiple other ways. Admittedly, the fact that the crash only occurred in the developer version, and not any other version, means that it probably wasn't a computer virus or DOS attack, but a clientside glitch could have still been responsible.
Firstly, it's known that Mojang can deliver server-side updates to Minecraft Bedrock, meaning that they can change the game's code without delivering an update to the user and having the user update the game[verification needed]. The only way this could be done is to have the game send a packet to a Mojang authentication server containing details about your game, and the authentication server running a check and sending back a packet, which modifies your game files and code.
Next, we need to take a look at the Minecraft Bedrock ban system. Mojang can permanently ban Minecraft Bedrock accounts from playing on realms and servers[24][25], but banned accounts will still have access to their singleplayer worlds. While I am highly opposed to Mojang being able to universally ban accounts from all realms and servers, that's a topic for another time. However, Mojang also states that "Xbox [console] players will no longer have access to their [singleplayer] worlds" when they are banned[24][k][l].
But how would this work? An Xbox can be played offline, or logged off. This is where the serverside check comes in handy. While the serverside check wouldn't work if the user is offline or logged off, the moment the game is launched, if the user is online, the game sends a packet to an authentication server containing the game, version, and login details. If the user is logged in to a banned account, then the authentication server sends back a packet, which saves a file to the user's game. This file makes the game unusable, so that the player can't even access their own singleplayer worlds. However, they can only do that on Xbox, as if they did it on iOS, Android, or Windows, Minecraft would quickly be pulled off of the app stores via anti-scam measures taken by those stores (you can't just ban a user who paid money for your game, that would be scamming that user)[m].
So far, those are the only pieces of evidence we have for a serverside check. If anyone has any evidence regarding, for, or against the existence of a serverside check, please contact me, as my discord username is in the end notes. How do I want Mojang to respond?
I want some kind of explanation of why the developer versions have been kept secret, why they aren't made publicly available to everybody, and what purpose they serve to Minecraft Marketplace partners. I also want for these features to be made publicly available in the official releases, so that everyone has the opportunity to take advantage of them, and use them to create maps and builds.
I also think that there should be more transparency going forwards. In Minecraft Java, anyone can extract the game files, press F3 to see debug information that they normally wouldn't need to see, and use that to code mods, which allow for essentially limitless possibilities.In Minecraft Bedrock, the equivalent of mods, addons, leave a lot to be desired, and are nowhere near the level of mods for Java Edition. If normal players were allowed access to these developer features, there is so much that could be done, that isn't possible right now.
As Minecraft's own splash says, "Information wants to be free!".
PS, we need vertical slabs. Add vertical slabs. END NOTES:
My contacts:
Discord - Illusioner#3682
Youtube - IllusionerC
In-Game Username - IllusionerC (bedrock and java)
Download link for the dev version: https://anonfiles.com/TaWeo5Dbu1/Minecraft_for_Windows_10_Debug_Build_7z
Alternate download link if main one is missing: [not available]
How to download: Download the 7zip file from one of the two links. Use 7zip to extract the folder from it. Go into the folder, and click the "certificate.cer" file. Install the certificate to the current user. Disconnect from the internet. That means completely disconnecting from all networks, wifi, and ethernet. If you are connected to the internet, this process will not work. Click on APPX file. If it gives you an error, repeat step 3, but install it onto the local machine instead. It'll ask you if you're sure you want to reinstall an older version of Minecraft. Click "reinstall". Once the install is complete, you can now play the developer version of Minecraft Bedrock beta 1.16.0.51. However, you must follow the precautions in step 8. Whenever playing the developer version, always remain disconnected to the internet. Never launch or play the developer version while connected to the internet. If you accidentally launch the developer version while connected to the internet, it may break your game. If your game is rendered unusable because you accidentally launched it while connected to the internet, then simply back up all of your worlds, and reset the app.
DISCLAIMER: The APPX file requires you to have purchased Minecraft for Windows 10 in the Microsoft app store. FOOTNOTES:
[a]: For at least 3 years (since April 3, 2018, which was when 1.2.13 was released), hypothesized to be around 4 years (since September 20, 2017, which was when the first edition of the Better Together update was released, marking the beginning of "Minecraft Bedrock Edition"[26])
[b]: The developers have given various reasons for this over the years, like compatibility issues, performance issues, and the fundamental limitations of C++. While this may have been true in the old days of Minecraft Bedrock, the game has gone a long way since Cthe days of Pocket Edition alpha, and these limitations have been effectively erased.
[c]: ImGUI is not a system exclusively created or designed for Minecraft, it's actually a general system used by video game developers to keep track of and modify properties and variables during gameplay, while those properties are changing in real time.
[d]: It was a glitch that caused tridents to "bounce" off of entities, which caused channeling tridents to strike the entity with lightning 20 times per second.
[e]: Note that if you choose to use the /simscale command, while the world and your player will be slowed down, your mining, eating, and ender pearl/chorus fruit animation times will remain the same. This is likely a bug.
[f]: I did a video about Pixel Paradise a few weeks ago[23]


[g]: Below is the error message[27]:
---------------------------
Assert Failure - ctrl+C to copy this message to the clipboard!
---------------------------
Assertion failed: UI-error:On Control Path: /start_screen/variables_button_mappings_and_controls/safezone_screen_matrix/inner_matrix/safezone_screen_panel/root_screen_panel/main_buttons_and_title_panel/main_buttons_panel/main_buttons_panel/stacked_rows/store/store_button/default/button_content/common_buttons.button_content_panel/content/default01-sheet | ----------------------------------------------------
Unknown properties found in def[default_animation] from namespace[start]
- Unknown property [initial_uv]
----------------------------------------------------
Condition is false: false
Function: DebugEndPoint::contentAssert in f:\darwinwork\685\s\handheld\src\common\debug\debugendpoint.cpp @ 119
---------------------------
OK
---------------------------


[h]: I tried reinstalling the game multiple different ways, and nothing worked, except installing and playing it offline. Methods I tried (which did not work): installing the official version, then joining the beta, then installing the dev version from the APPX file installing the most recent beta, then installing the dev version from the APPX file installing the developer version directly from the APPX file
[i]: IMPORTANT: As of September 18, 2021, the crash is back, indicating that the blacklist was only temporarily suspended, possibly for a quick bug fix.
[j]: Technically, it doesn't have to crash your game, as mentioned later, it can also be used to update your game, or lock you out of your game (without an error message or crash).
[k]: There's not much documented evidence of Xbox players being locked out of their singleplayer worlds as a result of a ban, so if anyone knows anything about that, please contact me, my discord username is in the end notes.
[l]: Once again, I am highly opposed to Mojang being able to lock people out of their game, but that's a topic for another time.
[m]: The only reason that it wouldn't also violate Xbox's anti-scam measures is that Microsoft is allowing it to happen. Obviously, app stores on iOS, Android, and Windows are subject to strict legal restrictions, which would prevent them from revoking a user's access to an app that they paid for. However, Xbox apps might not be legally subject to the same restrictions, enabling app developers to revoke a user's access to an app, even if they paid for it. This would enable Microsoft to add stipulations into the Xbox TOS, allowing them to revoke access to any app, paid or unpaid. REFERENCES:
[1]: https://minecraft.fandom.com/wiki/Bedrock_Edition_1.2.13 - Minecraft Wiki page about Bedrock 1.2.13
[2]: https://minecraft.fandom.com/wiki/Bedrock_Edition_1.2.14 - Minecraft Wiki page about Bedrock 1.2.13
[3]: https://minecraft.fandom.com/wiki/Developer_commands?oldid=1847904 - Minecraft Wiki page about developer commands
[4]: https://boards.4channel.org/v/thread/568225530 - A 4chan thread that has since been deleted.
[5]: https://anonfiles.com/TaWeo5Dbu1/Minecraft_for_Windows_10_Debug_Build_7z - download link for the leaked developer build
[6]: https://twitter.com/MattGartzke/status/981691403716648960 - Matthew Gartzke's tweet where he stated that developer commands would be removed
[7]: https://feedback.minecraft.net/hc/en-us/articles/360004167311-Minecraft-1-2-14-iOS-Only- - Changelog for Bedrock 1.2.14
[8]: https://minecraft.fandom.com/wiki/Matthew_Gartzke - Matthew Gartzke's Twitter
[9]: https://youtube.com/playlist?list=PLwnviK9sp0seLm2JOwwDyX1nsypBZX_Lem - AgentMindStorm: "Minecraft Bedrock Leaks" (playlist)
[10]: https://youtu.be/Hi9Uv1EYFm - AgentMindStorm: "In-Game Editors - Minecraft Bedrock Leaks"
[11]: https://youtu.be/_OZNzzapTuo - AgentMindStorm: "Secret Settings and Dev Console - Minecraft Bedrock Leaks"
[12]: https://youtu.be/fOLDYQAbt9A - AgentMindStorm: "New UI Docs - Minecraft Bedrock Leaks"
[13]: https://youtu.be/pqQfuPf2l4I - AgentMindStorm: "Editing Entities In-Game
[14]: https://youtu.be/jKVMNprQRfA - AgentMindStorm: "Developer Commands - Minecraft Bedrock Leaks"
[15]: https://youtu.be/9YEzoB8l3Eo - AgentMindStorm: "In-Depth Debug (Detachable Camera, Starting Dimension, Chunk Borders, and More!) - Minecraft Leaks''
[16]: https://youtu.be/DOsFfTH3rKQ - DanRobzProbz: "*NEW* Secret/Hidden Minecraft Commands On The Bedrock Edition (100% REAL)"
[17]: https://youtu.be/0uiZ4BI-D20 - ECKOSOLDIER: "NEW DEVELOPER COMMANDS ADDED CAN STOP HACKERS! MCPE 1.2.13 SECRET COMMANDS!"
[18]: https://www.4channel.org/faq
[19]: https://youtu.be/rgc4G2VhRnA - ibxtoycat: "This Minecraft Map Costs $19 And It's Ridiculous"
[20]: https://youtu.be/DQyCdvij80g - ibxtoycat: "This Is THE WORST Way to Spend $7 on Minecraft"
[21]: https://youtu.be/h9nLa-3Ps0E - PotatoPie25: "Why Pixel Paradise REALLY Sucks… (Minecraft Bedrock)"
[22]: https://youtu.be/njvmVOtpOE4 - Jadyn: "This Is The WORST Minecraft Server…"
[23]: https://youtu.be/J7jXGJ0oykg - IllusionerC: "Exploiting Glitches on Pixel Paradise #1: Why Pixel Paradise is a Failure"
[24]: https://help.minecraft.net/hc/en-us/articles/4408964729869-Why-Have-I-Been-Banned-from-Minecraft-
[25]: https://www.minecraft.net/en-us/article/moderating-minecraft
[26]: https://minecraft.fandom.com/wiki/Bedrock_Edition_1.2.0 - Minecraft Wiki page about Bedrock 1.2.0
[27]: https://imgur.com/a/34NfuVN - Minecraft Bedrock beta 1.16.0.51 developer version error message
FOOTNOTES
FOOTNOTES: [a]: For at least 3 years (since April 3, 2018, which was when 1.2.13 was released), hypothesized to be around 4 years (since September 20, 2017, which was when the first edition of the Better Together update was released, marking the beginning of "Minecraft Bedrock Edition"[26])
[b]: The developers have given various reasons for this over the years, like compatibility issues, performance issues, and the fundamental limitations of C++. While this may have been true in the old days of Minecraft Bedrock, the game has gone a long way since the days of Pocket Edition alpha, and these limitations have been effectively erased.
[c]: ImGUI is not a system exclusively created or designed for Minecraft, it's actually a general system used by video game developers to keep track of and modify properties and variables during gameplay, while those properties are changing in real time.
[d]: It was a glitch that caused tridents to "bounce" off of entities, which caused channeling tridents to strike the entity with lightning 20 times per second.
[e]: Note that if you choose to use the /simscale command, while the world and your player will be slowed down, your mining, eating, and ender pearl/chorus fruit animation times will remain the same. This is likely a bug.
[f]: I did a video about Pixel Paradise a few weeks ago[23]
[g]: Below is the error message[27]:
---------------------------
Assert Failure - ctrl+C to copy this message to the clipboard!
---------------------------
Assertion failed: UI-error:On Control Path: /start_screen/variables_button_mappings_and_controls/safezone_screen_matrix/inner_matrix/safezone_screen_panel/root_screen_panel/main_buttons_and_title_panel/main_buttons_panel/main_buttons_panel/stacked_rows/store/store_button/default/button_content/common_buttons.button_content_panel/content/default01-sheet | ----------------------------------------------------
Unknown properties found in def[default_animation] from namespace[start] - Unknown property [initial_uv] ----------------------------------------------------



Condition is false: false
Function: DebugEndPoint::contentAssert in f:\darwinwork\685\s\handheld\src\common\debug\debugendpoint.cpp @ 119

---------------------------
OK
---------------------------
[h]: I tried reinstalling the game multiple different ways, and nothing worked, except installing and playing it offline. Methods I tried (which did not work):
installing the official version, then joining the beta, then installing the dev version from the APPX file
installing the most recent beta, then installing the dev version from the APPX file
installing the developer version directly from the APPX file
[i]: IMPORTANT: As of September 18, 2021, the crash is back, indicating that the blacklist was only temporarily suspended, possibly for a quick bug fix. Since then, it's been repeatedly on and off.
[j]: Technically, it doesn't have to crash your game, as mentioned later in the video, it can also be used to update your game, or lock you out of your game (without an error message or crash).
[k]: There's not much documented evidence of Xbox players being locked out of their singleplayer worlds as a result of a ban, so if anyone knows anything about that, please contact me, my discord username is in the description.
[l]: Once again, I am highly opposed to Mojang being able to lock people out of their game, but that's a topic for another time.
[m]: The only reason that it wouldn't also violate Xbox's anti-scam measures is that Microsoft is allowing it to happen. Obviously, app stores on iOS, Android, and Windows are subject to strict legal restrictions, which would prevent them from revoking a user's access to an app that they paid for. However, Xbox apps might not be legally subject to the same restrictions, enabling app developers to revoke a user's access to an app, even if they paid for it. This would enable Microsoft to add stipulations into the Xbox TOS, allowing them to revoke access to any app, paid or unpaid.

REFERENCES:
[1]: https://minecraft.fandom.com/wiki/Bedrock_Edition_1.2.13 - Minecraft Wiki page about Bedrock 1.2.13
[2]: https://minecraft.fandom.com/wiki/Bedrock_Edition_1.2.14 - Minecraft Wiki page about Bedrock 1.2.13
[3]: https://minecraft.fandom.com/wiki/Developer_commands?oldid=1847904 - Minecraft Wiki page about developer commands
[4]: https://boards.4channel.org/v/thread/568225530 - A 4chan thread that has since been deleted.
[5]: https://anonfiles.com/TaWeo5Dbu1/Minecraft_for_Windows_10_Debug_Build_7z - download link for the leaked developer build
[6]: https://twitter.com/MattGartzke/status/981691403716648960 - Matthew Gartzke's tweet where he stated that developer commands would be removed
[7]: https://feedback.minecraft.net/hc/en-us/articles/360004167311-Minecraft-1-2-14-iOS-Only- - Changelog for Bedrock 1.2.14
[8]: https://minecraft.fandom.com/wiki/Matthew_Gartzke - Matthew Gartzke's Twitter
[9]: https://youtube.com/playlist?list=PLwnviK9sp0seLm2JOwwDyX1nsypBZX_Lem - AgentMindStorm: "Minecraft Bedrock Leaks" (playlist)
[10]: https://youtu.be/Hi9Uv1EYFm - AgentMindStorm: "In-Game Editors - Minecraft Bedrock Leaks"
[11]: https://youtu.be/_OZNzzapTuo - AgentMindStorm: "Secret Settings and Dev Console - Minecraft Bedrock Leaks"
[12]: https://youtu.be/fOLDYQAbt9A - AgentMindStorm: "New UI Docs - Minecraft Bedrock Leaks"
[13]: https://youtu.be/pqQfuPf2l4I - AgentMindStorm: "Editing Entities In-Game
[14]: https://youtu.be/jKVMNprQRfA - AgentMindStorm: "Developer Commands - Minecraft Bedrock Leaks"
[15]: https://youtu.be/9YEzoB8l3Eo - AgentMindStorm: "In-Depth Debug (Detachable Camera, Starting Dimension, Chunk Borders, and More!) - Minecraft Leaks''
[16]: https://youtu.be/DOsFfTH3rKQ - DanRobzProbz: "*NEW* Secret/Hidden Minecraft Commands On The Bedrock Edition (100% REAL)"
[17]: https://youtu.be/0uiZ4BI-D20 - ECKOSOLDIER: "NEW DEVELOPER COMMANDS ADDED CAN STOP HACKERS! MCPE 1.2.13 SECRET COMMANDS!"
[18]: https://www.4channel.org/faq
[19]: https://youtu.be/rgc4G2VhRnA - ibxtoycat: "This Minecraft Map Costs $19 And It's Ridiculous"
[20]: https://youtu.be/DQyCdvij80g - ibxtoycat: "This Is THE WORST Way to Spend $7 on Minecraft"
[21]: https://youtu.be/h9nLa-3Ps0E - PotatoPie25: "Why Pixel Paradise REALLY Sucks… (Minecraft Bedrock)"
[22]: https://youtu.be/njvmVOtpOE4 - Jadyn: "This Is The WORST Minecraft Server…"
[23]: https://youtu.be/J7jXGJ0oykg - IllusionerC: "Exploiting Glitches on Pixel Paradise #1: Why Pixel Paradise is a Failure"
[24]: https://help.minecraft.net/hc/en-us/articles/4408964729869-Why-Have-I-Been-Banned-from-Minecraft-
[25]: https://www.minecraft.net/en-us/article/moderating-minecraft
[26]: https://minecraft.fandom.com/wiki/Bedrock_Edition_1.2.0 - Minecraft Wiki page about Bedrock 1.2.0
[27]: https://imgur.com/a/34NfuVN - Minecraft Bedrock beta 1.16.0.51 developer version error message
[28]: https://boards.4channel.org/v/thread/574881361
[29]: https://anonfiles.com/fab49eOdu1
[30]: https://imgur.com/a/uezffiJ